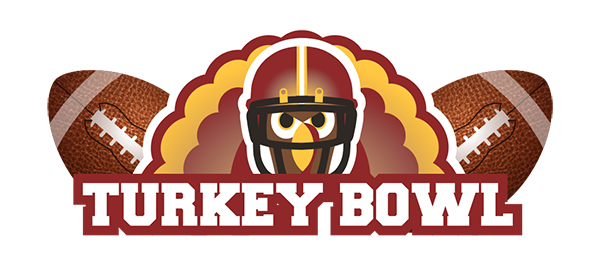 The crisp fall weather along the lake and skyline in the backdrop make the perfect atmosphere to run our annual Turkey Bowl in Chicago! Will your team have what it takes to take down all of the hungry Coed or Men's teams by pulling flags, reading routes, and going all the way? Gobble your way to the finals by doing some goal-line dances to the music in the background. Stay primed for victory by grabbing some grub from our vendors between games. The competition is sure to be fierce so bring your friends and family to cheer you on, don't forget the posterboard signs!
This year's Turkey Bowl will throw down on once again in the Fall of 2023 - Saturday, November 11th! We have sold out the last six years so be sure to secure your spot early for your chance at the trophy!
Divisions of Play:
Coed Recreational 8v8: Teams in the Coed Recreational division have some talent and experience but less than in the Intermediate and Competitive divisions.  They are in it "Just For Fun" at the beginning but as the day progresses will become more and more competitive.
Coed Intermediate 8v8: Teams in the Coed Intermediate division are looking for our most competitive Coed division to play in.  Most players in the Coed Intermediate division will have some experience playing flag football and they are playing to win!
Men's Intermediate 7v7: Our Men's Intermediate division is full of talent and passion.  Although not our highest level of play this division features players who know how to find the end zone and keep the other team out!
Men's Competitive 7v7: Our top level of Football play is for teams with high levels of talent, size and experience.  The Men's Competitive division is home to the best of the best with teams that will be ready to play on Saturday!
Turkey Bowl Tournament registration includes 3 games guaranteed, long sleeve tournament t-shirts, turkey trophies, officials, playoffs for qualifying teams, hydration and all necessary tournament equipment. There are NO roster limits. Check-in for all teams will be between 7:45-8:15 AM.  Turkey is on the menu for our tournament winners.