Athletico's Partnership with Chicago Sport and Social Club
As the Official Provider of Physical Therapy and Athletic Training for Chicago Sport and Social Club, Athletico Physical Therapy is committed to keeping you safe and healthy during and after the season. Having an Athletico Athletic Trainer to help prevent and treat injuries allows athletes to stay in the game and return safely if injury occurs.
Meet Your Athletico Athletic Trainer: Haley Overton, ATC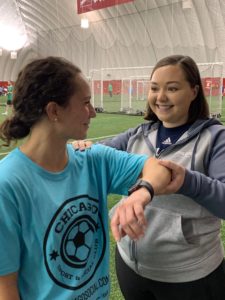 Haley Overton, ATC joined the Athletico staff in the spring of 2016. She transitioned to the Head Athletic Trainer for Chicago Sport and Social Club in the spring of 2017. Before joining the Athletico staff, Overton obtained a Bachelor of Science degree in Athletic Training with a minor in Physical Activity and Nutrition Science from the University of Iowa in 2015. She is a NATABOC-certified athletic trainer and is licensed in the state of Illinois. She is also CPR and AED certified.
When she is not covering games, she provides free assessments at Athletico River North and works as a physician extender for three physicians in the Chicagoland area.
In her spare time, Haley enjoys spending time with family and friends and exploring Chicago. She is originally from Mount Pleasant, Iowa and is the oldest of three.
Free Assessments Offered to all CSSC Members
Now in Illinois, you no longer need a prescription for physical therapy. If you have a strain, sprain or nagging pain, you can see one of our experts for a free, 30-minute assessment. We evaluate your injury and recommend treatment. If needed, we can begin treatment immediately, no referral necessary. Please note, restrictions apply.
Click here to contact Haley and request your free assessment.