Athletico is proud to be the Official Provider of Physical Therapy for Chicago Sport & Social Club and is committed to being a trusted partner for all league participants.  We provide the highest quality rehabilitation services to address any injuries, aches, or pains you may experience during your sport or everyday activities. With over 525 neighborhood locations throughout twelve states, including several locations throughout the Chicago area, we offer exceptional care that is convenient to you.
We believe that the best way to treat your pain is to start where you normally finish - with physical therapy.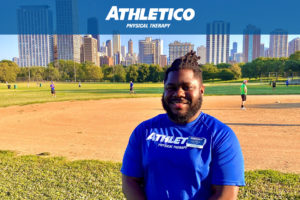 As a trusted partner, we provide an onsite athletic trainer during select leagues to treat any injuries that occur during play.
Larry James, LAT, ATC joined the Athletico staff in 2018.  Before joining Athletico, he received his degree in Athletic Training from Nicholls State University in Louisiana in 2016 and is currently in graduate school working towards his masters in sport psychology and injury prevention/sport enhancement. Larry was born and raised in Louisiana and moved to Chicago in 2018 to pursue his passion of helping others through sports and healthcare.
Larry's hobbies before the pandemic were exploring the city and trying new restaurants, and he now enjoys watching movies and home workouts. The New Orleans Saints are his favorite NFL team and if you listen closely you might hear a "Who Dat!" echo throughout the city on game day. He is also a huge basketball fan and has recently gotten in to soccer, baseball, and hockey.
If you'd like to contact CSSC's official Athletico Trainer, Larry James, LAT, ATC, regarding an injury or pain you may experience, please email him at [email protected].
 In Pain? Start Here.
Our physical therapists, the same ones who work with world class athletes and professional dance companies, can transform your pain before it progresses to something worse. Start with a free assessment and let our team fully evaluate your condition so they can recommend the best treatment option for you. There's no cost or obligation, we just want you to start feeling better as soon as possible.  For more information on our free assessment or to get started, click here.