Be Fit 312 is our challenge to be fit during the COVID-19 stay-home order. The challenge is simple - workout as often as you can, share your workouts with #BeFit312 and support your community.
We've created a base 30-minute workout for home or outside with a small footprint. You can  do our workout or your own - just share with #BeFit312.
Be Fit 312 basic workout suggestion: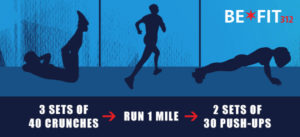 Feel free to do more or less depending on your fitness level and workout as often as you can. Share using #BeFit312 to encourage others and you'll have a chance to win prizes
Supporting our community is important, so through Be Fit 312 we're offering a platform for you to give to 10 great organizations supporting our community through the crisis. Giving is optional.
Donation suggestions:
$3.12 - may not seem like a lot but if enough people do it our impact can be significant
$31.20 - donate $3.12 to each of our 10 suggested organizations
$81.12 - donate the equivalent of $3.12 per day from May 5 - May 31
Any amount helps - donation amounts are up to you
If you don't donate that's OK, just Be Fit with us!
Participants eligible to win prizes from our amazing partners. The more you workout, share with #BeFit312 or donate the more chances to win!